Main content starts here, tab to start navigating
About
Tavernetta is brought to you by the Frasca Hospitality Group, founded by Chef Lachlan Mackinnon-Patterson and Master Sommelier Bobby Stuckey along with partner Peter Hoglund.
Frasca Hospitality is steeped in the tradition of authentic hospitality, delivered through genuine service, elevated cuisine and thoughtfully curated wine. Frasca Hospitality strives to deliver gracious, warm hospitality at every turn; from iconic Frasca Food and Wine and friendly Pizzeria Locale in Boulder to the stylishly classic Sunday Vinyl in Denver.
Frasca Hospitality Group has won many national and regional accolades including Food and Wine Best New Chefs, 5280 Best Restaurants and multiple James Beard Awards for Best Chef - Southwest, Outstanding Wine Service, and Outstanding Service.
Join our Team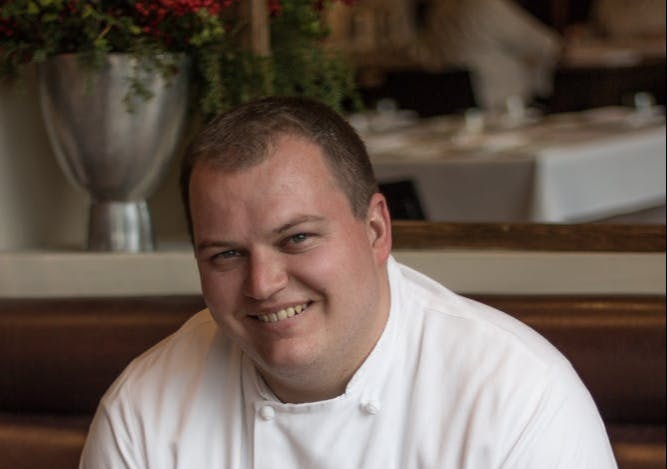 Cody Cheetham, Executive Chef
A native of Montana, Chef Cody began his culinary journey at The Cooking and Hospitality Institute of Chicago, a Le Cordon Bleu affiliate school. After spending a season cooking in Sorrento, Italy, he moved back to Chicago, where he worked for James Beard Award-winning chef Shawn McClain.
He then went to work with Chef Paul Virant, helping open Perennial Virant, a farm to table restaurant with a focus on preservation where Cody was the Executive Sous Chef. Following Perennial Virant, Cody went to Trenchermen, a modern American restaurant opened by Pat and Mike Sheerin. He worked there until 2016 when he moved to Colorado and began his career with Frasca Hospitality Group. In 2019, Cody became Chef de Cuisine of Tavernetta.